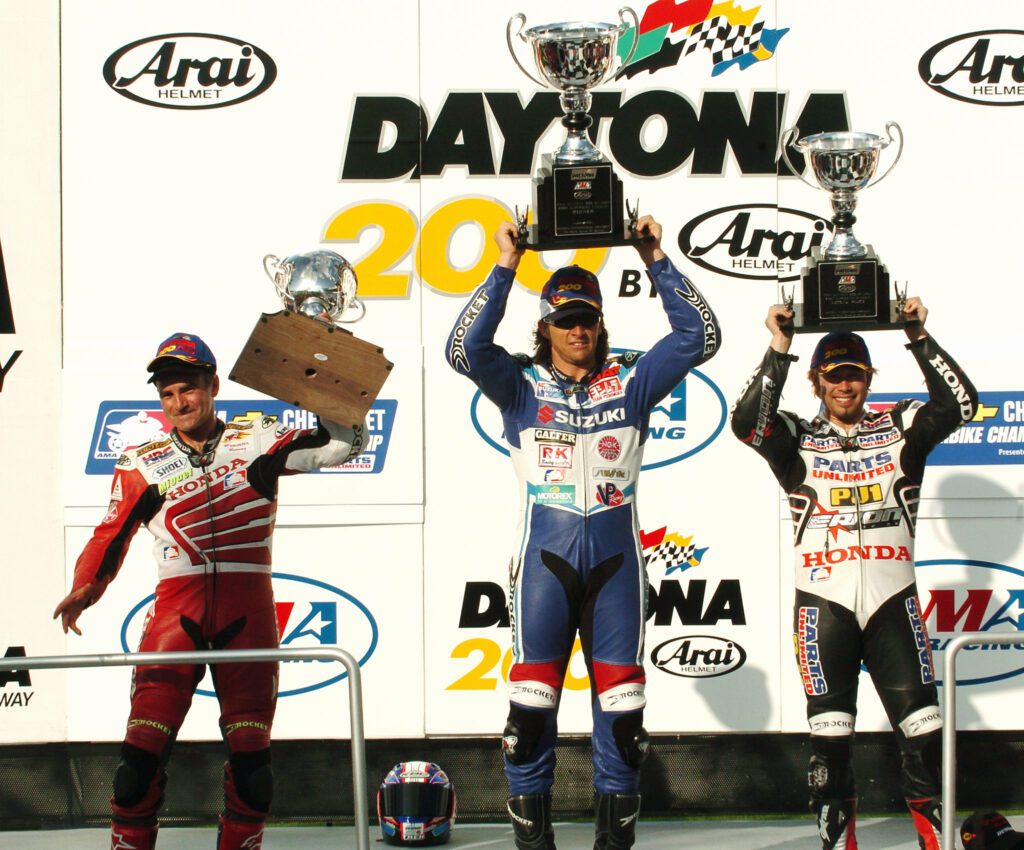 With the news that MotoAmerica is headed to Daytona International Speedway in March of 2022 for the Daytona 200, we decided the perfect way to build excitement for the event would be to start digging through the history books and memory banks. Since Paul Carruthers is literally as old as the Speedway itself and covered almost 30 Daytona 200s as a journalist while working at Cycle News, it was a no-brainer that it would be him who would take on the task of trying to recall the good and the bad. And since we are the home of the AMA Superbike Series, we figured we'd have him start his look back with the 1985 Daytona 200 – the first of the 200s to feature Superbikes – and go from there. This week, we focus on the 2004 and 2005 Daytona 200s.
2004
Winner: Mat Mladin, Suzuki GSX-R1000
For Australian Mat Mladin, the Daytona 200 didn't mean as much as it did to his American rivals, and he wasn't against saying exactly that. What did mean a lot to the Yoshimura Suzuki rider was winning AMA Superbike Championships and he knew that although the title wasn't won at Daytona, it certainly could be lost there. Thus, rider and team went into the race with a plan and in 2004 the plan worked to perfection with Mladin winning his third Daytona 200.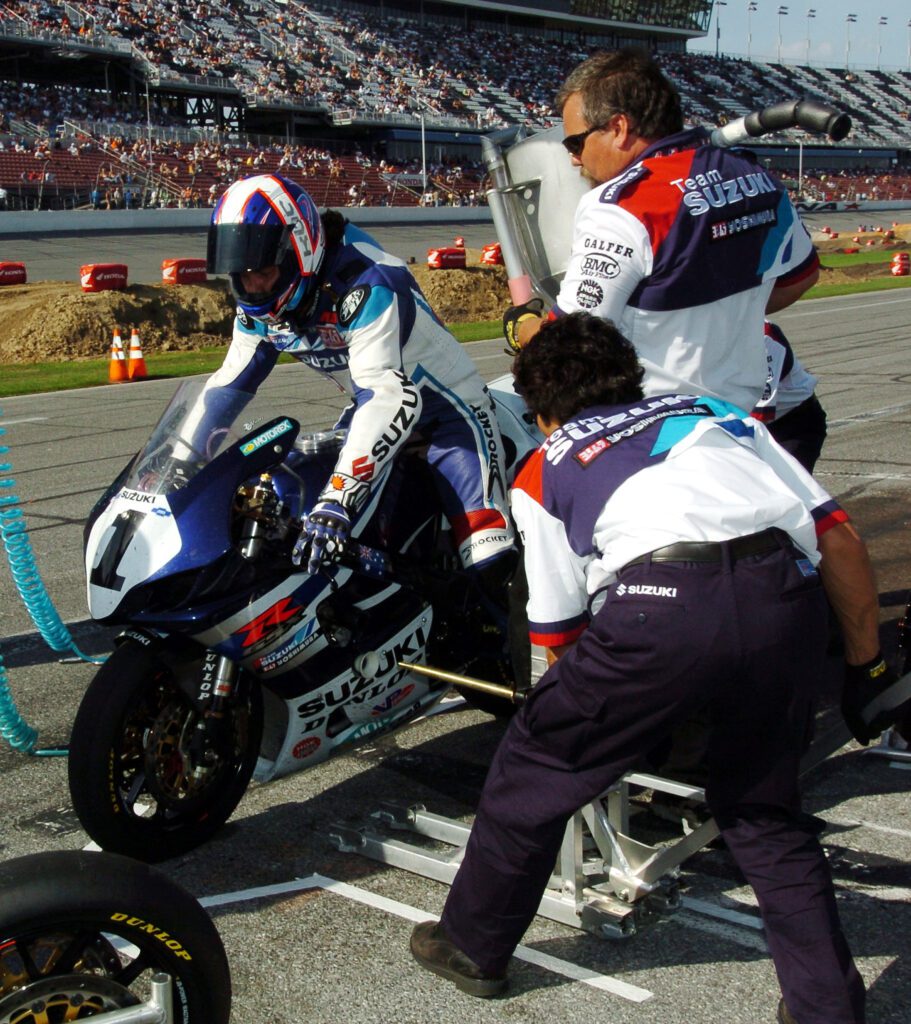 The Turning Point: Mladin and his band of merry men researched everything they could find on past Daytona 200s, and they concocted a strategy that would see them visit the pits three times for tires, a change-up from the normal two-stop strategy that most employed. Mladin made three fast pit stops, got three sets of fresh Dunlop tires, and ran lap times that kept him at or near the front for 200 miles. At the finish he was some seven seconds clear of a battle for second place.
Newsworthy: That second-place battle was fought out between Erion Honda's Jake Zemke and American Honda's Miguel Duhamel, the pair racing to the very end with Zemke edging the four-time winner of the event by just .014 of a second.
Mladin's Daytona 200 win was his 25th AMA Superbike victory and it put him within one win of tying leader Miguel Duhamel on the all-time win list.
There were just six factory Superbikes on the grid for the Daytona 200 and only three of them finished. Thus, fourth place went to privateer Jack Pfeifer, a perennial mid-packer on a Pirelli-shod Suzuki GSX-R1000 – two laps behind the lead trio.
The "Ducati Daytona Desolation" continued with Eric Bostrom's Ducati blowing up on the 43rd lap while running with race-winner Mladin.
Mladin's teammate Aaron Yates looked to have second place locked up when he crashed after a run-in with lapped rider Anthony Fania Jr. with just eight laps to go. What followed was "hideous" with Yates losing his cool and kicking and head-butting Fania in full view of those spectating at the second horseshoe as well as those watching at home on TV.
Ducati's Eric Bostrom obliterated the Daytona International Speedway lap record with his 1:46.835, besting his brother Ben's lap from the year before – a 1:48.376 in what was the first year with the Speedway's new chicane configuration.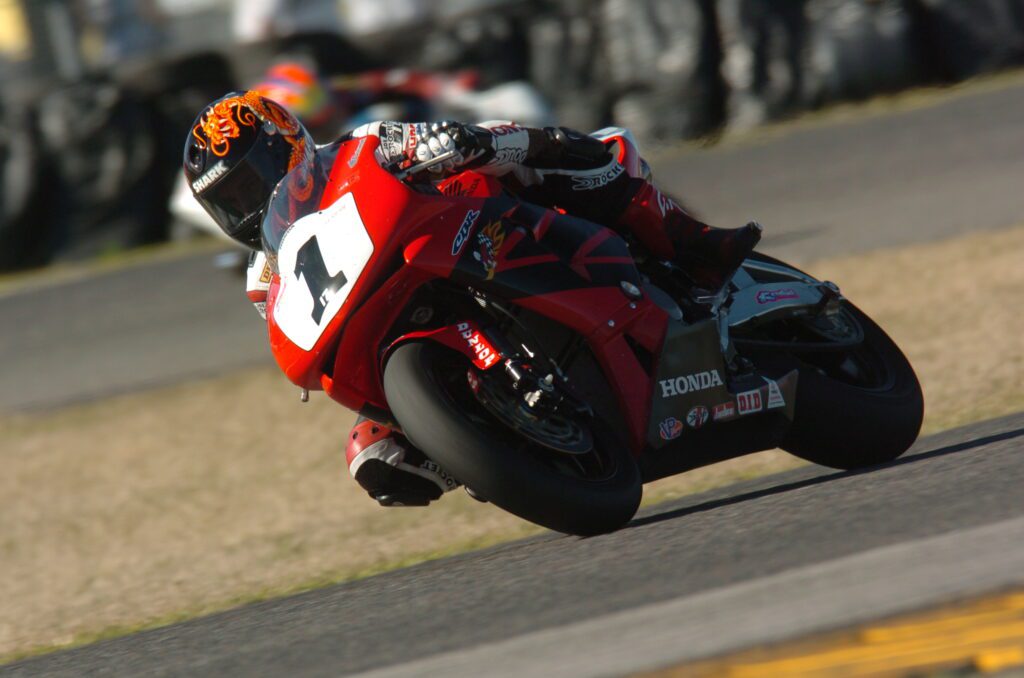 2005
Winner: Miguel Duhamel, Honda CBR600RR
American Honda's Miguel Duhamel destroyed the competition as he rode to victory in the first non-Superbike Daytona 200 since the big bikes took over in 1985, racing his Formula Xtreme-spec Honda CBR600RR to a 42.586-second victory. The win was Duhamel's fifth in the Daytona 200, putting him in a tie with Scott "Mr. Daytona" Russell.
The Turning Point: Duhamel took over after the first cycle of pit stops and was at the front the rest of the way, leading 51 of the 57 laps. His day was made easier by one of Kurtis Roberts' pit stops being 37 seconds. Duhamel's longest was 12 seconds). "It feels great to win five," Duhamel said. "But it's amazing to have a bike that so early still in development, the 600 Xtreme, to be able to do 200 miles on a bike like that – and you know we're doing 180 mph. It's quite a testament to the bike, to how Honda builds motorcycles."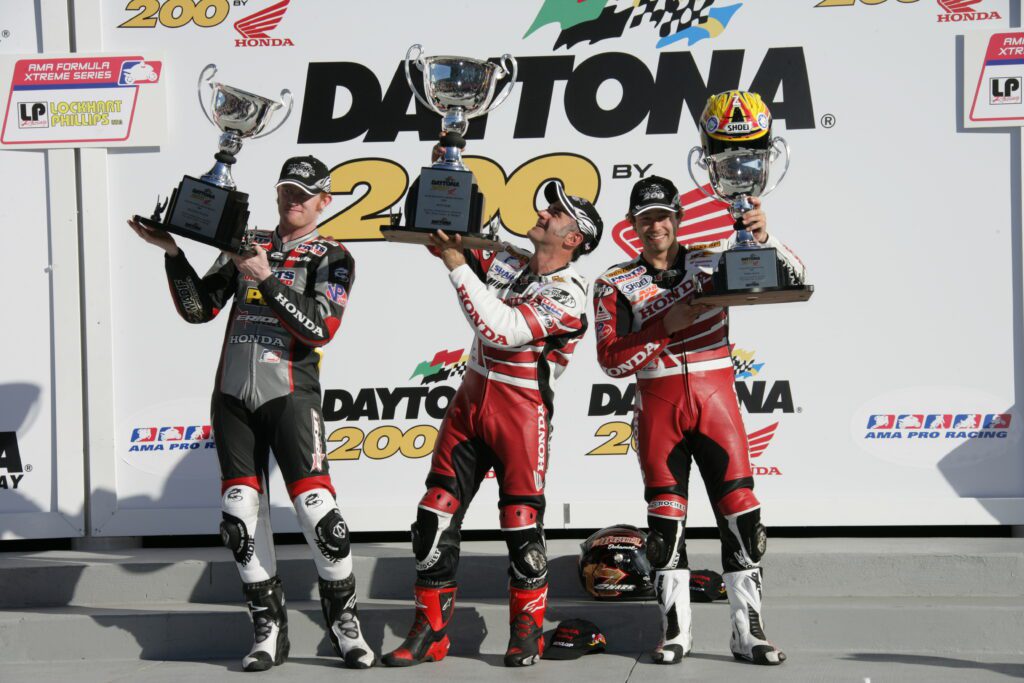 Newsworthy: Erion Honda's Kurtis Roberts rode his Honda CBR600RR to second place in the 200, some six seconds clear of Duhamel's American Honda teammate Jake Zemke. The highest placing non-Honda was the MPTracing.com Suzuki GSX-R600 ridden by Danny Eslick.
Mat Mladin won the Superbike race at Daytona on his Yoshimura Suzuki GSX-R1000, besting Parts Unlimited/Ducati Austin's Neil Hodgson by 3.475 seconds with the Superbike class being reduced to a 15-lap sprint race that ran in support of the Daytona 200.
Duhamel's win in the 2005 Daytona 200 was his last Daytona victory.
In addition to winning the race, Duhamel also qualified on pole position with a lap just .006 of a second faster than his teammate Jake Zemke.